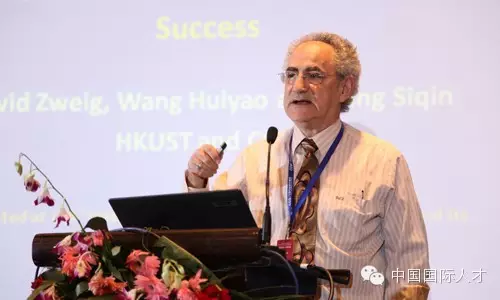 Presidents of China's top universities who received their doctoral degrees overseas hired more top overseas talent during their terms, a recent study found.
Researchers collected data from 27 of the best universities in China, called vice-ministry level universities. The study was conducted with full support from the central government by David Zweig; Wang Huiyao, president of the Center for China and Globalization, a Beijing-based think tank; and Kang Siqin, Zweig's research assistant.
"The result indicates that compared with presidents who did not get an overseas PhD, presidents who gained their PhDs abroad are more willing and able to attract people who qualify for the top national programs, the 1000 Talents program run by the Organization Department of the CCP and the Changjiang scholars program run by the ministry of Education," said Zweig, study director and chair professor at Hong Kong University of Science and Technology, on Tuesday at the International Forum on Global Migration and Development.
The research analyzed 63 university presidents from 1999 to 2012 and sorted them into three groups: presidents who received their doctoral degrees from overseas universities, those who were visiting scholars at overseas institutes and universities for two consecutive years, and those who had no long term overseas research experience.
The study found that about one-third of the university presidents received their doctoral degrees overseas, one third were visiting scholars and about one third had no long-term overseas research experience.
For universities, having an overseas doctorate and being externally promoted means that the president is more willing to change existing cultures.
"Some universities and labs, the small units, have begun to change the 'small environment' ... but there is still a long way to go before the best overseas are willing to return full time," Zweig said.
The average number of years between their presidency and their days abroad is also lengthening. In 1999, the average number of years that a university president had been back from abroad was 15, while today the average number of years is 22, Zweig said.(By Luo Wangshu)
From China Daily, April 27th, 2015.